Everything you seek in a compact sedan is here in the new Attrage. From outstanding fuel efficiency of 20.4km/ℓ to easy maneuverability, it meets your highest expectations. But the new Attrage doesn't stop there. Its surprisingly roomy interior and wide-ranging amenities reach far beyond its class to enhance driving pleasure. The attractive exterior with bold sedan face and wide, stable rear is also aerodynamically shaped to enhance eco performance. The more you drive the new Attrage, the more you appreciate the little extras that make driving a joy.
Minimum turning radius (4.8m)
The new Attrage is exceptionally easy to maneuver through narrow city streets and crowded parking lots, thanks to an extremely tight turning radius, one of the smallest in its class. Drivers of every experience level will find the new Attrage simple to handle.
Outstanding aerodynamic performance
The new attrange is streamlined based on advanced computer simulation to slip through the wind with a class-leading 0.29* Cd that lowers noise, raises fuel efficiency and enhances handling stability.
*On models with 14-inch full wheel covers. According to internal test results.
1.2-liter DOHC 12-valve MIVEC engine
When you demand acceleration, the new Attrage responds with spirited torque and horsepower while maintaining impressive fuel economy.
The INVECS-III (Intelligent & Innovative Vehicle Electronic Control System III) CVT wide-ratio transmission maintains optimal rpm for high performance and fuel economy. You'll enjoy smooth acceleration and deceleration, as well as efficiently selected gear ratios in all driving conditions.
Just the right touch of elegance for a class-above compact.
Dynamic styling with a progressive chrome bezel.
Refreshingly stylish wheels add an eye-catching accent.
Simple yet stylish interior surrounds you and your passengers with quality materials, smooth flowing lines and a seamless fit and finish that conveys quality craftmanship.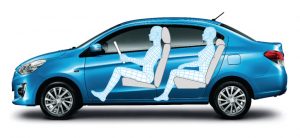 The new Attrage puts people first. Mitsubishi Motors refined every last detail to create an interior that maximizes passenger space, meets practical needs and satisfies your emotions. From two-tone color scheme to supportive headrests and ergonomic controls, it will please you and your passengers to a surprising degree. Sit back, relax and enjoy the ride.